A place to hold things that inspire, amaze, inform, and/or educate
Category Archives: Images

Source: APOD
I first thought there were fireworks and aurora and then realized red sprite lightning was the nature's firework. :)

Source: PopSci

Source: PopSci

Source: Webdesignledger

Source: Webdesignledger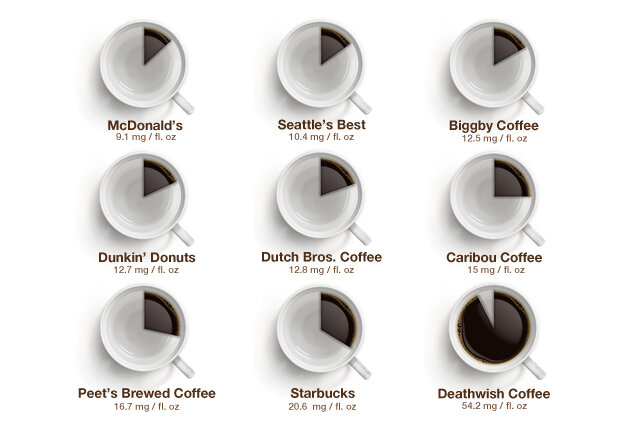 Source: thrillist
Coffee from Deathwish company contains highest amount of caffeine per cup. It is a terrible name for a coffee brand. People drink coffee to stay 'alive' or awake. Anyway, now you know even for coffee, they all are not created equally. :) *sips*
Act of July 29, 1958 (National Aeronautics and Space Act of 1958), Public Law 85-568, 72 STAT 426, which provided for research into the problems of flight within and outside the earth's atmosphere., 07/29/1958 (ARC Identifier: 299868); Enrolled Acts and Resolutions of Congress, 1789 – 1996; General Records of the United States Government, 1778 – 1992; Record Group 11; National Archives and Records Administration–Southwest Region (Fort Worth, TX)

This guys downloaded twelve cloud-free, mosaic imagery of the Earth at each month of the year, re-projected those images, and created an animated gif using them. Really amazing!
Source: UXBlog

Photographer: Roberto Giudici
The photo above shows an eye-popping complex of waterspouts I observed over the Adriatic Sea on a boat trip to Brindisi, Italy. As we departed, the weather was very summer like — some humidity, hot and sunny. Cumuliform clouds developed during our excursion, but the weather didn't appear threatening. In fact, the atmospheric pressure was stable at 1024 millibars. Suddenly, we saw a line of funnel clouds straight in front of our boat! The photo shows the most recently formed waterspout in the foreground; the oldest spout, in the background, would disappear in a few seconds. Our boat actually passed through the scary funnels. The spouts were spaced about 1/3 nautical mile from each other. I asked the boat's captain if he thought cruising past the spouts would be dangerous, but apparently, he wasn't bothered much by their proximity. Nevertheless, waterspouts can generate winds of over 70 mph (F0 on the enhanced Fujita Scale) and can be hazardous to boaters. Othoni Island is at left center. Photo taken on July 23, 1999.
Source: http://epod.usra.edu
Sodium produces yellow/gold colors. Barium creates green, copper compounds produce blue, strontium salts give you red and titanium metals give you silver colored sparks.

Other commonly used chemicals are carbon which provides the fuel, oxidizers which produce oxygen for burning, magnesium which increases the overall brilliance and brightness, antimony that gives you a "glitter" effect and calcium which deepens the colors.
Source: Google+